The Australian Cattle Dog, also known as the Blue Heeler or Queensland Heelers, is a remarkable and versatile purebred dogs that has made a significant impact on the lives of cattle farmers and dog owners in Australia and around the world.
With their boundless energy, intelligence, and herding instincts, Australian Cattle Dogs have become beloved family pets, competitive sports dogs, and excellent working companions in various fields. They are called Australian heeler or blue heelers (blue dogs), they are reluctant cattle that belong to a herding group different from other dogs and other breeds compact dog.
In this article, we will delve into the history, characteristics, training requirements, and unique aspects of this remarkable breed.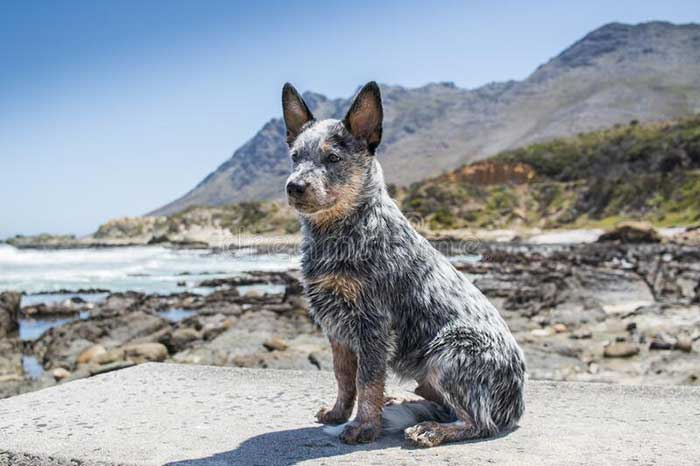 Origins and History of Australian Cattle Dog
Originally bred in the early 1800s, Australian Cattle Dogs were developed in Australia to assist cattle farmers in herding wild cattle over rough terrain in the Australian outback. They are blue mottled or red speckle working dogs, The breed's primary ancestor is believed to be the "Hall's Heelers," a dog breed known for its exceptional herding abilities.
Thomas Hall, a cattle farmer in New South Wales, played a vital role in the development of the breed, which was later recognized and registered by the Australian Kennel Club in 1903.
Physical Characteristics of Australian Cattle Dogs
Australian Cattle Dogs are medium-sized, compact dogs with a sturdy build, making them perfect for working long hours on farms. Their double coat, which consists of a dense undercoat and a harsh, weather-resistant outer coat, provides protection against the harsh Australian climate that other dogs don't have.
They come in blue mottled or red mottled coats with darker red markings and occasional tan markings. A unique feature of the breed is that they are born white and develop their coat color over time.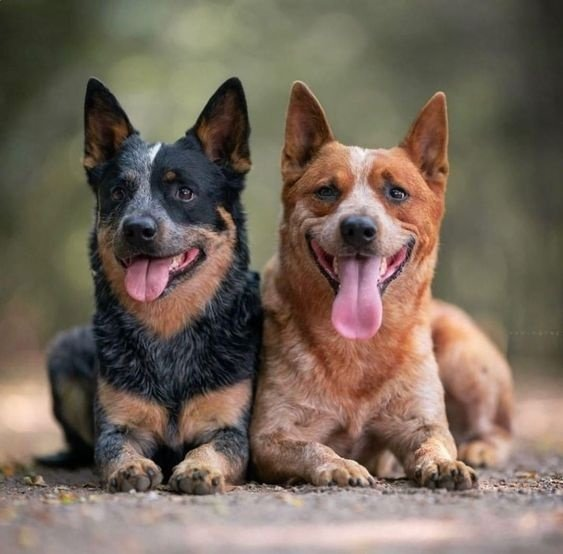 A Versatile Dogs for Working
As a herding dog, the Australian Cattle Dog's instinct to round up cattle and other animals is deeply ingrained as they are high energy dog. However, their versatility extends beyond herding; they excel in various dog sports and are quick learners, making them ideal candidates for obedience training, agility trials, and more.
Their boundless energy and mental stimulation requirements make them suitable for active families and individuals who can provide ample exercise and training opportunities.
Training and Socialization for Australian Heeler
Early socialization is crucial for Australian Cattle Dog puppies to ensure they grow into well-adjusted adults. These intelligent and robust dog breeds need consistent training and mental stimulation to prevent behavioral issues.
Australian Cattle dog owners should use positive reinforcement methods, praise, and treats to encourage desired behaviors. Obedience training is particularly essential to ensure that their first herding dog instincts are well-managed and controlled.
Caring for an Australian Cattle Dog
The Australian Cattle Dog's double coat requires occasional brushing to remove dead hair and maintain its condition. Shedding hair is moderate, and more frequent brushing might be necessary during seasonal changes.
Their high energy levels demand regular exercise, so they are not well-suited to apartment living. Instead, they thrive in homes with ample space and opportunities to run and play.
Health Considerations for Queensland Heeler Working Dogs
Like all dog breeds, Australian Cattle Dogs are prone to certain health conditions. Progressive Retinal Atrophy (PRA) is one such concern that can lead to vision impairment and blindness.
Responsible breeding practices and regular physical health check-ups with a veterinarian can help minimize the risk of hereditary health issues. Additionally, hip dysplasia is a concern in larger breeds, including cattle dogs, so proper breeding and maintaining an ideal weight are essential.
Australian Cattle Dogs as Family Pet
Despite their herding nature, Australian Cattle Dogs can be wonderful family pets. They are known for forming strong bonds with their family members and can be gentle and protective with children.
Early socialization and training are critical to ensure they interact well with other pets and don't display their instinct to nip running children or smaller animals.
Breeding and Responsible Ownership for Australian cattle dog
As with any purebred dog, responsible breeding practices and national breed club are essential to maintain the health and temperament of the Australian Cattle Dog.
Reputable breeders focus on cattle herding to produce dogs that adhere to the breed standard and are free from genetic health issues. They prioritize the well-being of their dogs and ensure that potential puppy buyers are well-informed about the breed's characteristics and needs.
For those considering bringing an Australian Cattle Dog into their lives, responsible ownership is key to a harmonious and fulfilling relationship. These high-energy dogs require regular exercise, mental stimulation, and engagement.
Long walks, runs, playtime, and interactive games will help keep them content and prevent any undesirable behaviors stemming from boredom.
The Herding Instinct of Australian Cattle Dog
The herding instinct of Australian Cattle Dogs can be both a blessing and a challenge. While their natural herding abilities make them valuable on farms, in a domestic setting, this instinct can lead to herding behaviors directed toward family members or other pets.
Early training and clear boundaries are crucial to managing this trait effectively. Providing appropriate outlets for their herding instincts, such as agility courses or organized herding activities, can be highly beneficial for this breed type.
The Ideal Environment of this Robust Breed
Australian Cattle Dogs are best suited for active individuals or families who enjoy spending time outdoors. A home with a securely fenced yard offers ample space for them to explore and play.
However, it's essential to note that merely having a large backyard is not enough; these dogs need regular interaction and exercise with their human family members and the puppy's parents.
Other Dogs and Pets
While Australian Cattle Dogs can be ideal dog for sociable and friendly practices with other dogs when properly socialized, their herding instinct may cause them to chase or nip at running dogs. Early socialization with various dogs and positive reinforcement training can help mitigate any potential issues.
When introducing these individual dogs to other pets, supervision and gradual introductions are essential to ensure everyone's safety.
Health and Grooming of Australian Cattle Dog
Australian cattle dog requires maintaining the physical health of an Australian Cattle Dog for ensuring a long and happy life of this working dog. Regular veterinary check-ups, vaccinations, and parasite prevention are crucial.
Responsible breeders often screen their breeding stock for hereditary health conditions to minimize the risk of passing on any genetic disorders. Early detection and appropriate medical care are vital for addressing any health issues that may arise.
Grooming the Australian Cattle Dog is relatively straightforward. Their short, weather-resistant coat requires occasional brushing to remove loose hairs and dirt. During shedding seasons, more frequent brushing may be necessary to keep the hair under control for compact dog breed.
Bathing should only be done when needed, as excessive bathing can strip their coat of natural oils and cause skin issues.
A Breed for Dedicated Owners
Potential Australian Cattle Dog owners should be prepared for the commitment required to raise and care for this breed properly. Their high energy levels, intelligence, and herding instincts demand owners who can provide the necessary time, training, and mental stimulation.
Families with children should be aware of the breed's tendency for herding, especially with young kids, as their nipping behavior might need to be redirected through training and positive reinforcement.
Australian Cattle Dogs in the Community
Beyond their roles as working dogs and family pets, Australian Cattle Dogs have made their mark as therapy dogs, assisting individuals with physical and emotional challenges. Their loving and loyal nature, combined with their intelligence and obedience, make them excellent candidates for therapy work, providing comfort and support to those in need.
In the dog sports world, Australian Cattle Dogs continue to impress with their agility, focus, and competitive spirit. They excel in obedience trials, flyball, disc dog, and other activities that showcase their athleticism and mental abilities.
Joining the Australian Cattle Dog Community
For those who welcome an Australian Cattle Dog into their lives, there are various breed clubs and communities dedicated to the love and betterment of the breed. Being part of these clubs can offer valuable resources, support, and opportunities to participate in dog sports and events that celebrate the breed's unique talents.
Frequently Asked Questions (FAQs) about Australian Cattle Dogs
1. What is an Australian Cattle Dog's temperament like?
Australian Cattle Dogs are known for their intelligence, loyalty, and high energy levels. They are hardworking and have a strong herding instinct, which may lead to nipping behaviors if not properly trained. With proper socialization and training, they can be affectionate and gentle family companions.
2. Is the Australian Cattle Dog officially recognized by the American Kennel Club (AKC)?
Yes, the Australian Cattle Dog is same breed officially recognized by the American Kennel Club (AKC). The breed was recognized by the AKC in 1980 and is part of the AKC's Herding Group.
3. Are Australian Cattle Dogs suitable for families with children?
Yes, Australian Cattle Dogs can be great family dogs when raised with children and taught appropriate behavior.
However, their herding instinct may cause them to try to herd running children, so early training and supervision are essential.
4. Do Australian Cattle Dogs get along with other pets?
With proper socialization, Australian Cattle Dogs can get along well with other pets. However, their herding instinct may lead to chasing or nipping behaviors towards smaller animals.
Introducing them to other pets gradually and under supervision can help the breed's tendency for harmonious environment.
5. How much exercise do Australian Cattle Dogs need?
Australian Cattle Dogs are high-energy dogs that require plenty of physical activity to stay happy and healthy. Daily exercise, including long walks, runs, playtime, and mental stimulation through interactive games or training, is essential to meet their needs.
6. Can Australian Cattle Dog live in apartments or small homes?
Due to their high energy levels, Australian Cattle Dogs are generally not well-suited for apartment living. They thrive in homes with ample space, preferably with a securely fenced yard where they can run and play.
7. Do Australian Cattle Dog shed a lot?
Australian Cattle Dogs have a moderate shedding rate. Regular brushing will help keep their coat in good condition and reduce loose hair around the home. During shedding seasons, more frequent brushing may be required.
8. How can I find reputable Australian Cattle Dog breeders registered with the American Kennel Club?
To find reputable Australian Cattle Dog breeders registered with the American Kennel Club, you can visit the AKC's official website and use their "Find a Breeder" tool.
This tool allows you to search for breeders of Australian Cattle Dogs who have met the AKC's guidelines and standards for responsible breeding practices. It is essential to do thorough research and ask for references when choosing a breed clubs to ensure you are getting a healthy and well-bred Australian Cattle Dog puppy.