As pet owners, we all want our dogs to be in the best health possible. One way to most dogs achieve this is by incorporating regular dog stretches exercises into their routine. Just like humans, dogs benefit from stretching their muscles and maintaining flexibility.
In this blog article, we will explore the importance of dog stretches, the benefits they provide, and a comprehensive dog stretching routine to keep your canine companion in tip-top shape.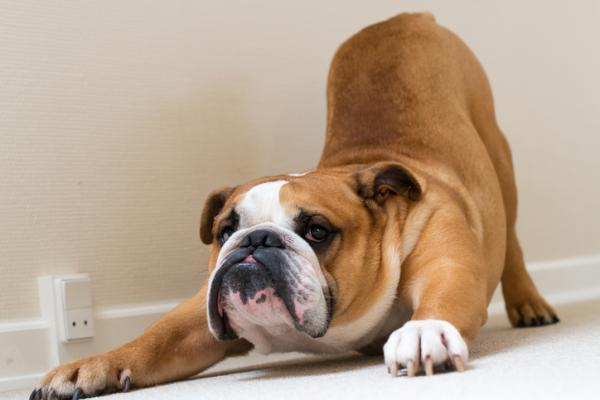 Why Dog Stretching Matters
When we think of dog stretches, the image of a pooch extending its front legs and doing a "downward dog" may come to mind. However, stretching is not limited to the front legs alone. It encompasses the entire dog's body, including the front and hind legs only their head, as well as the spine, back, and pelvis.
Dogs stretch instinctively to alleviate discomfort, acting cranky, or even due to muscle pain. Stretching helps maintain the range of motion in their joints, promoting good blood flow and flexibility.
Front Legs Stretches
Front Leg Extension:
Start by having your dog stand in a comfortable position. Gently take one front leg forward, extending it from the shoulder. Hold the leg forward for a few seconds, then return it forearm gently move it to the original position.
Repeat with the other front leg. This stretch involves gently moving the leg to improve the dog's flexibility and relieve tension in the legs close the shoulder area.
Shoulder Stretch:
Stand behind your dog, gently pull one front leg forward, and extend it straight out from the dog standing shoulder. Hold it for a few seconds, then release.
Repeat on the dog stand other side. This stretch targets the dog's shoulder muscles and front leg and back legs, improving flexibility and reducing the risk of injury.
Gentle Chest Massage:
After your dog has performed the front leg stretches, offer a light pressure on chest. This will not only relax your furry friend but also help release tension in the chest muscles.
Hind Leg Stretches
Hind Leg Extension:
With your dog in a standing position, gently take one hind leg backward, extending it from the hip. Hold the dog's lead leg in this position for just a few minutes, then release and repeat with the other hind leg.
This stretch is essential for improving hip and leg muscles flexibility, especially for breeds prone to hip issues.
Hip Flexor Stretch:
Stand behind your dog and gently pull one hind back leg forward, encouraging the hip to flex. Hold for a few minutes and then release. Repeat on the other hind limb backwards to side.
Hip flexors are crucial for a dog's movement and dog's muscles, and this stretch will help maintain their functionality.
Spinal and Back Leg Stretch:
While your dog is in a standing position, gently extend one back leg backward, parallel to the back and pelvis. Hold sit position for a few seconds and repeat with the other back leg.
This dog stretch targets dog's spine and back legs, promoting spinal fluid flow and alleviating any pain or discomfort.
Common dog sploot odd positions:
most common dog sploot involves kicking one or both limb forward with both legs behind the body. The one leg sploot involves one leg behind while the other leg remains tucked underneath.
What Should My Dog Stretching Routine Include?
A dog stretching routine should take just a few minutes of your time and can greatly benefit your dog's overall well-being. Aim to incorporate the following stretches into your dog's daily activities:
Front Leg Stretches:
stretch your dog front leg and shoulder stretch, allowing your dog to loosen up the front leg muscles.
Gentle Chest Massage:
Offer very little pressure to the chest muscles to help relax and improve breathing capacity.
Hind Leg Stretches:
Perform the hind leg extension and hip flexor stretch to enhance flexibility and range of motion.
Spinal and Back Leg Stretch:
Allow your dog to perform the spinal and back leg stretch to maintain flexibility along the spine. Back and pelvis parallel position involves
Dog's Stomach Stretch:
Stretching is a dog's instinctive reaction to an upset stomach as he tries to alleviate the discomfort in his belly.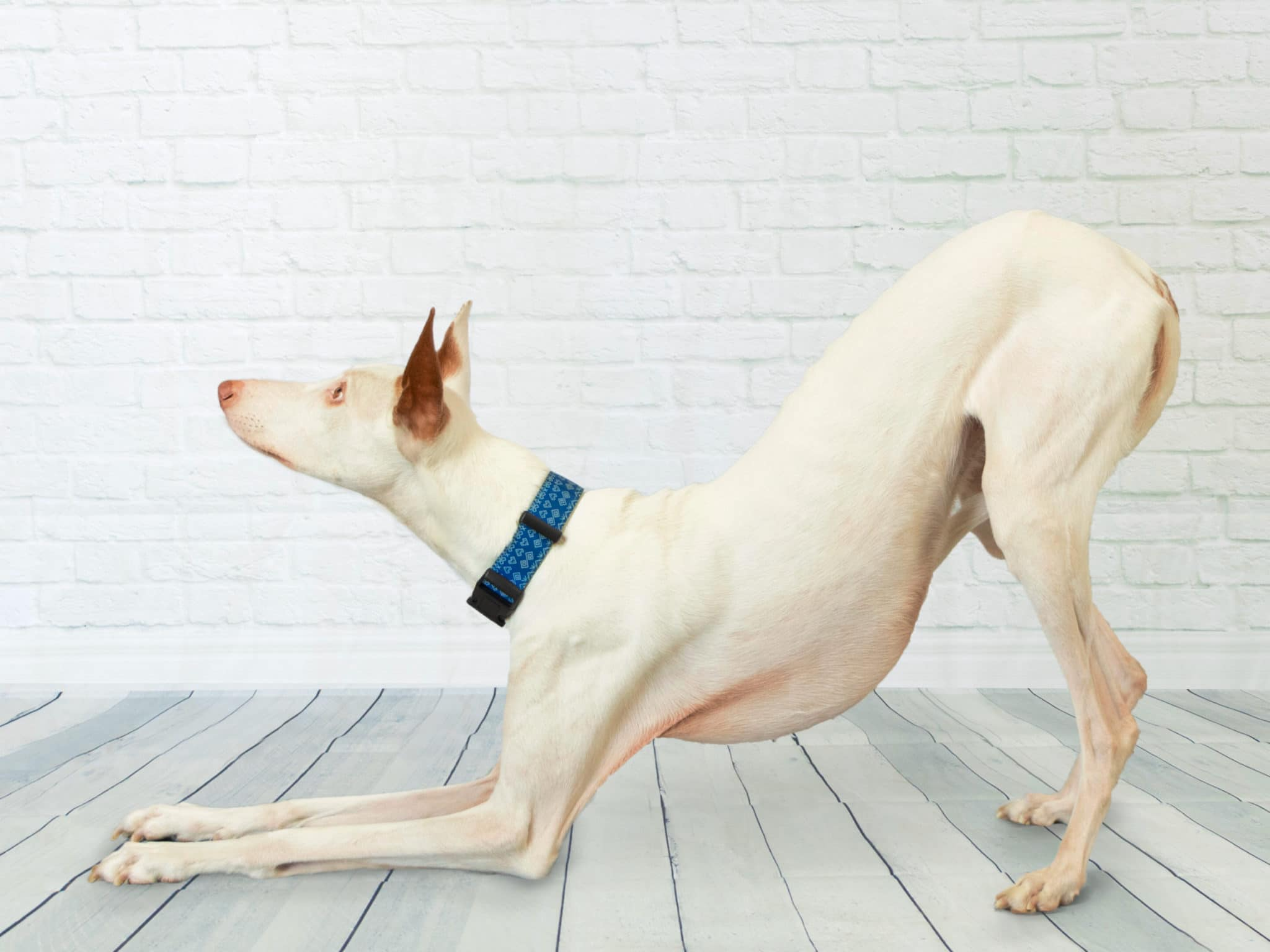 Tips for Extremely Beneficial Stretching
To make your dog stretching routine more enjoyable and effective, consider the following tips:
Use Training Treats: Encourage your dog to participate in the stretching routine by offering training treats as rewards. Positive reinforcement will make the experience more enjoyable and help reinforce the stretching behavior.
Be Mindful of Your Dog's Age and Health: Take your dog's age and health condition into account when performing stretches.
Old dog may requires gentler movements to alleviate pain, while other dogs with certain health issues may need modified stretches. Always consult your veterinarian Dr if you have any concerns.
Start Slowly: If your dog is new to stretching exercises, start slowly and gently. Allow them to get used to frequently standing movements. Avoid forcing any stretches or putting too much pressure on their hind limb.
Observe Your Dog's Reactions: Watch your dog's body language during the stretching routine. If they seem uncomfortable or show signs of distress, stop immediately. Stretching should never cause pain or distress.
Incorporate Play and Bonding: Turn the stretching routine into a fun bonding experience. Use playful cues like "play bow" to encourage your dog's participation. This will create a positive association with stretching.
Gentle massage strokes after Excercise:Incorporate stretching into your dog's post-exercise routine. Stretching after physical activity more exercise can help decrease pain in mucsles and enhance spinal fluid and prevent spinal vertebrae recovery.
Be Consistent: Consistency circular movements is key to seeing positive results. Aim to perform the stretching routine daily or at least a few times a week. Regular stretching will contribute to overall flexibility and well-being to many dogs.
Respect Your Dog's Limits: Every dog's body is different, and some may naturally be more flexible than others. Respect your dog's natural range of motion and avoid pushing them beyond their limits.
Include Warm-Up Exercises: Just like humans, dogs benefit from warm-up exercises before stretching. Take your dog for a short walk or engage in some light play before starting the stretching routine.
Make It a Positive Experience: Ensure that the stretching routine is a positive experience for your dog. Shower them with affection, praise, and treats throughout the process.
Frequently Asked Questions (FAQ) – Dog Stretches
1. Why is it important to stretch my dog? Stretching and legs standing is essential for dogs to maintain flexibility, improve circulation, and prevent muscle stiffness. Regular stretching can also alleviate discomfort, reduce the risk of injuries, and promote overall well-being.
2. How often should I stretch my dog? Aim to include a stretching routine in your dog's daily activities, or at least a few times a week. Consistency is key to seeing the best results from the stretching exercises.
3. Can I start stretching my puppy? Yes, you can start stretching your puppy gently. Keep the stretches mild and age-appropriate. As your puppy grows, gradually increase the intensity of the stretches.
4. My dog is older, is it safe to stretch them? Yes, stretching can be safe and beneficial for older dogs. However, it's essential to be gentle and considerate of any existing health conditions. Consult with your veterinarian to tailor a stretching routine suitable for your senior dog.