Dog training in Australia is an essential part of being a responsible dog owner. Whether you have a new puppy or an adult dog, training plays a crucial role in their development and ensures they become well-behaved companions.
In recent years, dog training clickers have gained popularity as a highly effective tool for positive reinforcement training. In this article, we will explore the benefits of clicker training, how it works, and why it's a great addition to your dog training arsenal.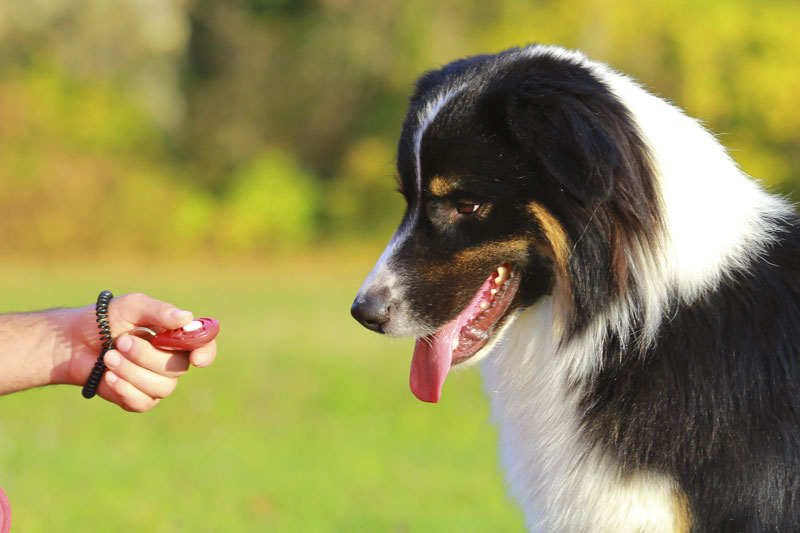 What are Dog Training Clickers?
A dog training clicker is a small handheld device that produces a distinct clicking sound when pressed. This sound serves as a marker, indicating to your dog that they have performed the desired behaviour correctly.
Clickers are commonly used in positive reinforcement training, where dogs are rewarded for exhibiting desirable behaviours rather than being punished for undesirable ones.
How Clicker Training Works:
Clicker training works by associating the sound of the clicker with a reward, typically a food treats. The process involves a simple sequence of steps to train your dog the obedience: you click the clicker at the exact moment your dog performs the desired behavior, followed immediately by giving them a treat.
This clear form of communication allows your dog to understand which actions are being rewarded, making it easier for them to learn new behaviours.
Dog Clickers For More Effective Training Sessions
Dog clickers are invaluable tools for more effective training sessions with your canine companion. These small handheld devices emit a distinct clicking sound that serves as a precise marker to communicate with your dog.
The clicker's sound bridges the gap between the exact moment your dog performs a desired behavior and the subsequent reward. This clear and immediate feedback helps your dog understand which actions are being reinforced, making the training process more efficient and enhancing their learning experience.
With the help of a dog clicker, you can establish clear communication, improve timing, and provide consistent positive reinforcement, leading to faster and more reliable learning outcomes for your furry friend.
How Do you Clicker Train your Dog?
Effective Communication:
The clicker makes a distinct sound that can be heard from a distance, enabling precise communication with your dog. This clarity helps them understand which behaviour they are being rewarded for, making the training process more efficient.
Positive Reinforcement:
Clicker training relies on positive reinforcement, which is proven to be a highly effective and humane method of training dogs. By rewarding your dog with treats for performing desired behaviours, you create a positive association and motivate them to work hard to earn more rewards.
Focus and Engagement:
Using a dog clicker during training sessions helps your dog stay focused and engaged. The sound of the dog clicker acts as a signal that they have done the right thing, encouraging them to repeat the behavior to earn another treat.
Teaching New Tricks:
Clicker training is particularly useful when teaching your dog new tricks or complex behaviours in different circumstances. The clicker allows you to capture the exact moment your dog performs the desired action, making it easier for them to understand and repeat the behaviour.
Clear and Consistent Marker:
Unlike verbal commands that may vary in tone or clarity, a command with the clicker produces a consistent sound every time, eliminating any confusion for your dog. This clear marker helps in shaping behaviors more precisely and reinforces the bond between you and your furry companion.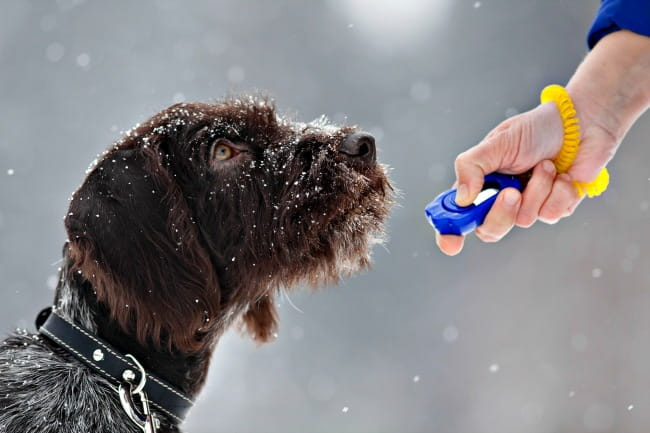 Using Clickers in Training:
To start clicker training, teach you dog the following steps:
Familiarize Your Dog with the Clicker:
Introduce your dog to the clicker by clicking it and immediately offering them a treat with new behavior. Repeat this several times until they associate the sound of the clicker with receiving a reward.
Begin Basic Training:
Once your dog understands the connection between the clicker and the reward, you can start using the clicker to reinforce desired behaviors. Click the moment your dog performs the behavior you want, and then give them a treat. Repeat this train process consistently to reinforce the behavior.
Shape New Behaviors:
As your dog becomes familiar with clicker training, you can use the clicker to shape new behaviors. . Clicker train is for small steps towards the desired behavior, gradually increasing your expectations and rewarding your trained dog accordingly. With patience and consistency, your dog will learn to perform more complex behaviors.
Practice and Reinforce:
Regular practice is essential for your dog to retain what they have learned. For example, continue using the clicker and treats as rewards, gradually reducing the frequency of treats as a reward as your dog becomes more proficient in the desired behaviours.
A Clicker for Training Dogs – The Clicker's Added Benefit:
Apart from the primary benefits of clear communicate and positive reinforcement, dog training clickers offer additional advantages:
Distinct and respect from Verbal Command:
Clickers provide a distinct sound that is different from your voice. This distinction teach your dog the difference between everyday command and training cues, reducing confusion during regular interactions.
Hands-Free Operation:
Clickers usually come with a wrist strap, allowing you to secure it to your wrist or protect it between your fingers. This hands-free operation gives you the freedom to use hand signals or hold a leash while training your dog.
Universal Communicate:
Clicker training is not limited to pooch alone. The clicker's sound can be used to train other animals without exceptions, such as cats, birds, and rabbits. This versatility makes it a valuable tool if you have multiple pets or work with animals in different circumstances.
Marker for Safety Behaviors:
Clickers can be used to train safety behaviors, such as recall or "stop" commands. By associating the clicker sound with these critical behaviors, you can ensure your dog responds promptly and reliably, even in potentially dangerous situations.
Mental Stimulation:
Training sessions that incorporate clicker training provide mental stimulation for your dog. Engaging their minds in learning and problem-solving tasks helps prevent boredom and promotes a healthier, happier pet.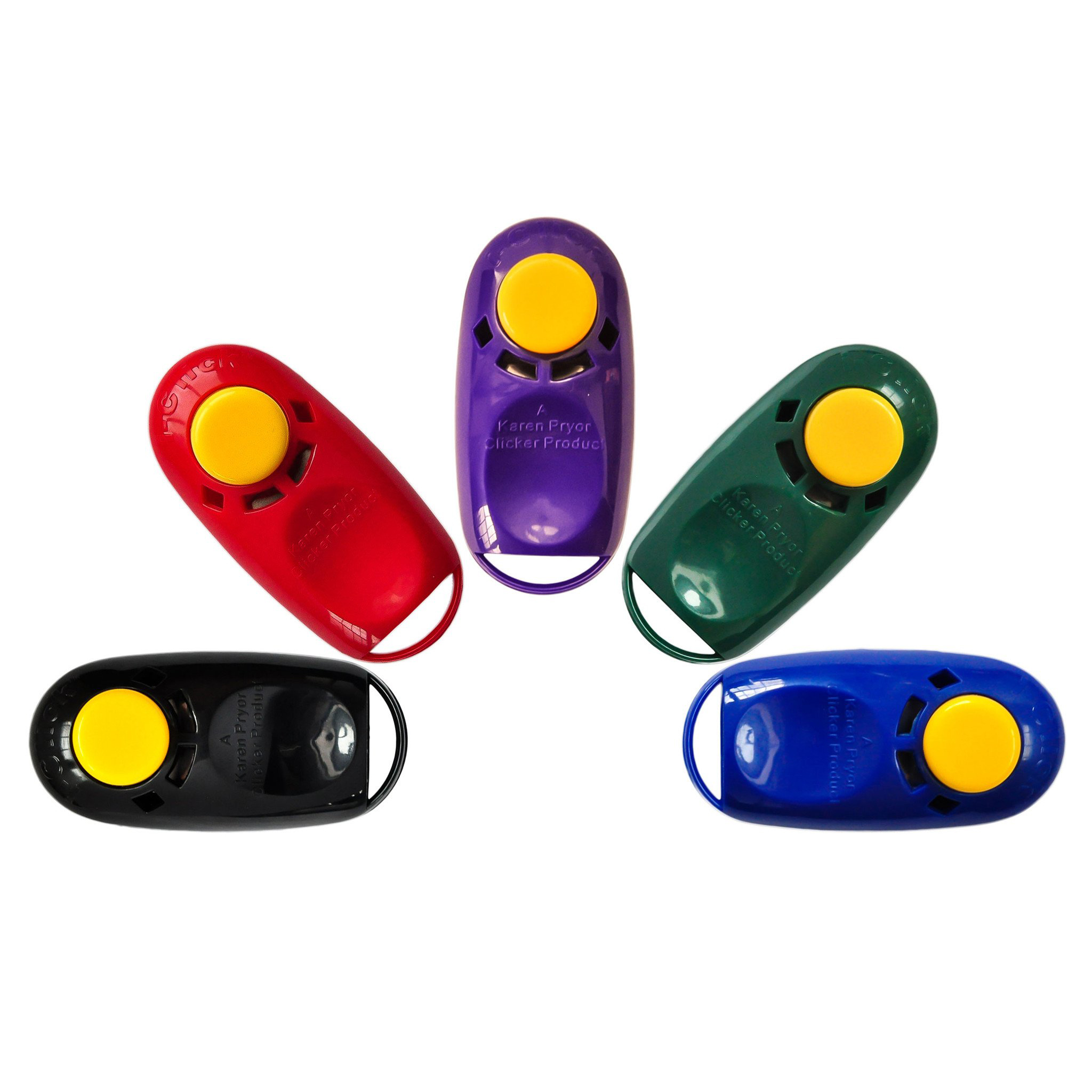 Choosing and Using a Dog Training Clicker:
When selecting the correct dog training clicker from the store, look for one that fits comfortably in your hand and has a distinct clicking sound. Some dog clickers also come with adjustable volume settings, which can be beneficial if your pup is sensitive to loud noises.
To effectively use a clicker in training:
Start Giving Command in a Distraction-Free Environment:
Begin training in a quiet, familiar space to minimize distractions. Once your dog becomes more proficient, gradually introduce distractions to reinforce their training in various situations, walking, eating, etc.
Use High-Value Treats:
Treats are an essential part of clicker training. Opt for small, soft, and highly enticing treats that your dog will be motivated to work for. Experiment with different types of treats to find what your dog finds most rewarding.
Timing is Crucial:
Click at the exact moment your dog performs the desired behaviour. Aim for precision to ensure your dog associates the click with the correct action. Consistency and accuracy in timing will yield better results in accordance with a training clicker.
Gradually Fade Out the Clicker:
As your dog becomes more proficient in the behaviours you're teaching, start reducing the frequency of clicks and trainer for correct behaviour. Transition to intermittent reinforcement, where you reward your dog occasionally instead of every time they perform the behaviour correctly.
Finding Professional Clicker Training Services in Australia:
If you feel overwhelmed or unsure about clicker training, seeking the assistance of a professional dog trainer can be a great option.
In Australia, there are numerous training services available that specialize in positive reinforcement training, including clicker training. These trainers have the knowledge and experience to guide you and your dog through the training process effectively.
When choosing a dog training service, consider the following factors:
Qualifications and Experience:
Look for trainers who have a guarantee or have undergone professional training programs. Their qualifications and experience demonstrate their expertise in using positive reinforcement techniques, including clicker training.
Positive Reviews and Recommendations:
Seek recommendations from other dog owners or read online reviews to gauge the trainer's reputation. Positive feedback from satisfied clients is a good indication of a trainer's effectiveness and professionalism.
Training Methods and Philosophy:
It's important to align with a trainer whose training philosophy and methods with other dogs resonate in accordance with your own values. Verify that the trainer emphasizes positive reinforcement and rewards-based training rather than relying on punishment or harsh methods.
Security and Personal Connection:
Contact the trainer and discuss your dog's needs and your training goals. A trainer who communicates effectively and shows genuine interest in your dog's well-being is more likely to provide a positive training experience.
Remember, dog training is an ongoing process, and consistency is key. Even after attending professional training sessions, it is crucial to continue practicing and reinforcing the learned behaviors at home.
This will help solidify the puppy training and ensure your dog maintains their newfound skills.
FAQs About Dog Training Clickers:
Can any dog be trained using a clicker?
Yes, clicker training can be used with dogs of all ages, breeds, and sizes. It is an example of a versatile training method that can be adapted to suit individual dogs' needs and learning styles.
Do I need to be an experienced dog owner to use a clicker?
No, clicker training is suitable for both experienced and novice dog owners. It is a user-friendly technique that can be easily learned and applied by anyone interested in training their dog.
How long does it take for a dog to learn with a clicker?
The time it takes for a dog to learn depends on various factors, including the dog's individual temperament, the complexity of the behaviour being taught, and the consistency of training. Some dogs may learn quickly, while others may require more time and practice.
Can clicker training be used for obedience and training dogs?
Absolutely! Clicker training is highly effective for obedience decided training. The clear communication provided by the clicker helps reinforce desired behaviors, such as sit, stay, come, and walking nicely on a leash.
Where can I purchase a dog training clicker?
Dog training clickers can be purchased at pet supply store, online retailers, or through professional dog trainers where they sell clickers at a suitable price for everyone.
They generally come in various styles, including handheld clickers with wrist straps or clickers integrated into training aids.