As we all know, our adorable fur babies can bring us immense joy and happiness. But did you know that they can also teach us a thing or two about yoga?
In this article, we will explore the world of "Puppy Pose ," a yoga posture that mimics the stretching and relaxation movements of our canine companions. Whether you're a seasoned yogi or a beginner, Puppy Pose can offer numerous benefits for both body and mind. Let's wag our way into this enlightening practice together.
Understanding Puppy Pose
Puppy Pose, also known as "Uttana Shishosana" in Sanskrit, is a variation of the popular Downward Facing Dog pose. It offers a blend of stretching and relaxation, providing a gentle opening for the spine, shoulders, and chest. Similar to a puppy's natural stretch upon waking or the cat cow pose, this pose is ideal for releasing tension and alleviating stress in our bodies while you breathe deeply.
Entering the Extended Puppy Pose
To start, come into Tabletop Position with your hips stacked wrists stacked under your shoulders and your knees under your hips. Place a rolled-up blanket or yoga blocks under your knees and hands to elevate them slightly. This adjustment allows for a more accessible pose, especially if you have tight shoulders or limited flexibility.
The Movement
Walk Your Hands Forward: As you breathe deeply, slowly walk your hands forward, stretching your arms out in front of you.
Forehead to the Floor: Lower your chest towards the floor of the mat while reaching your forehead down. This action creates a slight inversion, where your heart is higher than your hips.
Press Firmly: Press your palms into the mat or the props you've placed under your hands to create a gentle opening in the elbows and shoulders.
Hips Towards the Heels: Keeping your hips stacked over your knees, start to guide your hips toward your heels. This action lengthens the neck and entire spine.
Puppy Pose Benefits
Stretches the Spine and Shoulders:
Puppy Pose is a fantastic way to stretch and elongate the spine while gently opening up the shoulders.
Relieves Upper Body Tension:
By focusing on the upper arms, shoulders, and upper back, Puppy Pose helps release chronic tension in these areas.
Heart Chakra Activation:
The gentle opening of the chest in this pose can stimulate the heart chakra, fostering feelings of compassion and love.
Stimulates Blood Flow:
The slight inversion of Puppy Pose encourages blood flow to the head, promoting relaxation and clarity.
Calms the Mind:
Practicing this pose with slow, deep few breaths can have a calming effect on the mind, reducing stress and anxiety.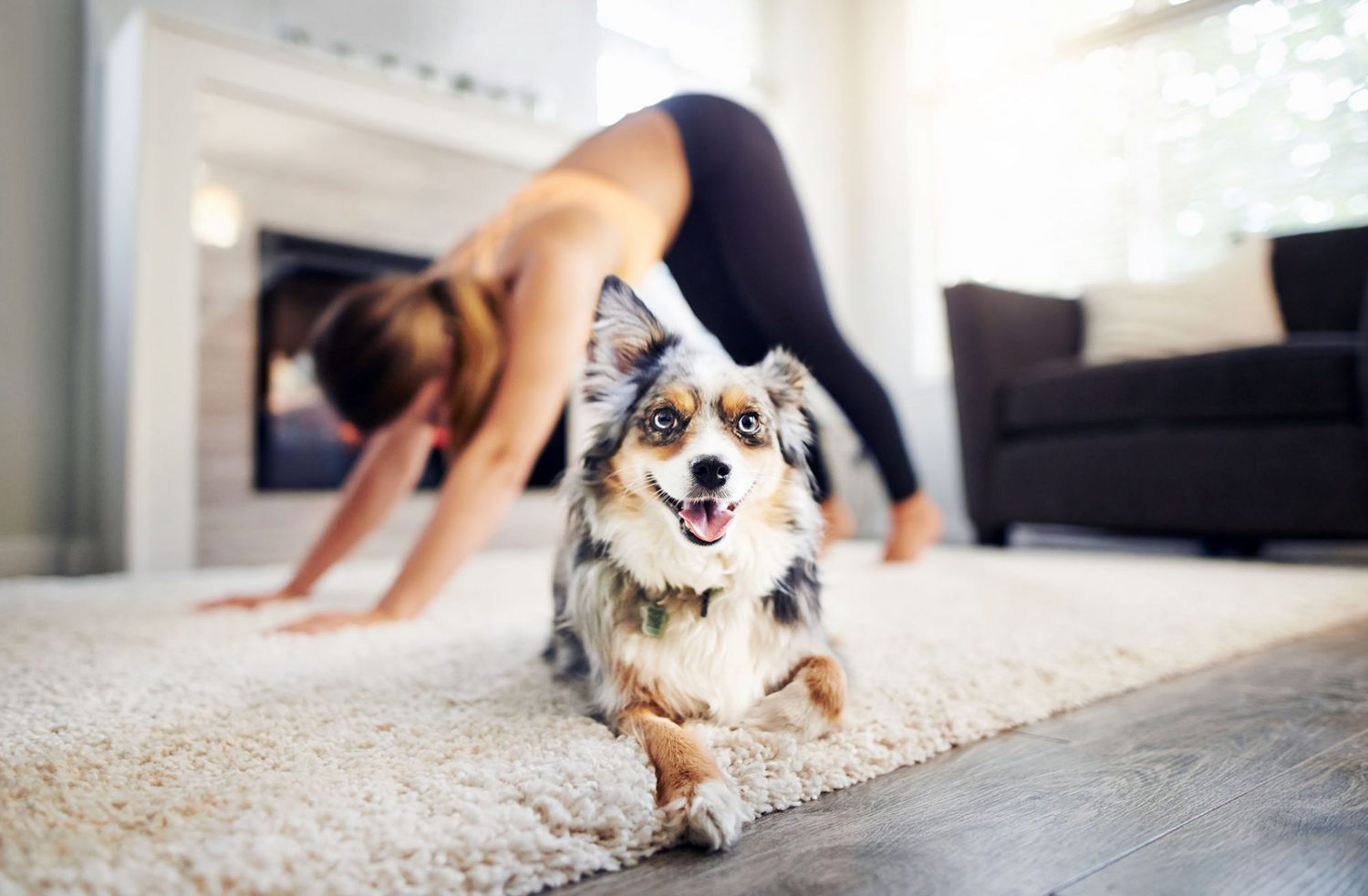 Modifications and Variations
Extended Puppy:
For a deeper stretch, you can extend your arms even further forward, tight your abdominal muscles reaching out as far as your entire body allows making the half dog pose.
Hand Lock Variation:
To intensify the stretch in the shoulders, interlace your index fingers and extend your arms forward toward the floor, creating a hand lock.
Thigh Stretches:
If you want to target the thighs, make your shoulders stacked and walk your feet and hands backward slightly, allowing your hips to sink closer to the heels.
Taking Your Poses Practice Further
Now that you've familiarized yourself with Puppy Pose and its benefits, let's explore some ways to enhance your practice and make the most out of this nurturing posture.
1. Stay Mindful of Your Breathing:
As with any yoga practice, the breath is essential. In Puppy Pose, pay attention to your breath, allowing it to be deep and steady. Inhale deeply into your chest and exhale fully, slowly release any tension with each breath.
2. Engage Your Core:
While Puppy Pose primarily focuses on the head and upper body, don't forget to engage your core gently. This engagement supports your lower back and helps you maintain stability the pose longer as much as you can.
3. Explore Props and Modifications:
If you find it challenging to comfortably rest your forehead on the mat, try using a folded blanket or block as a prop. Experiment with the height of the mat or prop until you find the right level of support that allows you to relax into the pose.
4. Practice Gratitude:
Channel the spirit of your furry companion by practicing gratitude in Puppy Pose. As you stretch and release tension, take a moment to express gratitude for your body and the present moment.
5. Combine with Other Poses:
Puppy Pose pairs wonderfully with various yoga asanas. For example, after holding Puppy Pose for a few breaths, transition into Child's Pose to counterbalance the backbend with a gentle forward fold.
6. Focus on the Neck and Shoulders Roll:
Puppy Pose can be especially beneficial for those who spend long hours sitting at a desk or engaging in activities that strain the neck upper back and shoulder. Use this posture to create space and release tension in these areas.
7. Make it a Part of Your Daily Routine:
Like any yoga pose, the benefits of Puppy Pose become more pronounced with regular practice. Incorporate it into your daily routine, especially during moments of stress or when you need to take a break from the demands of the day.
8. Listen to Your Body: Remember that yoga is a personal practice, and what works for one person may not suit another. Listen to your body, and modify the pose as needed to make it accessible and comfortable for you.
FAQs – Puppy Pose: Unleashing the Inner Serenity of Your Pup
1. Is Puppy Pose suitable for beginners?
Absolutely! Puppy Pose is a gentle and accessible yoga posture, making it perfect for beginners. Its simplicity allows individuals with limited flexibility or yoga experience to practice it comfortably.
2. Can I practice Puppy Pose if I have shoulder or wrist issues?
Yes, you can! One of the advantages of Puppy Pose is that it can be modified to accommodate various physical conditions. Placing props like yoga blocks or using a folded blanket with your yoga teacher can alleviate pressure on the shoulders and wrists, making it more accessible and comfortable.
3. How long should I hold Puppy Pose?
The duration of holding Puppy Pose can vary depending on your comfort level and practice. Generally, holding the pose for 30 seconds to one minute is sufficient to experience its benefits. However, feel free to adjust the timing based on what feels right for you.
4. Can I practice Puppy Pose if I have lower back issues?
Puppy Pose is relatively gentle on the lower back, but it's essential to listen to your body. If you have lower back issues, proceed with caution and consider using props or bending your knees slightly to reduce pressure on the lower back.
5. Can I combine Puppy Pose with other yoga poses?
Yes, Puppy Pose blends well with other yoga asanas. After practicing Puppy Pose, you can seamlessly transition into Child's Pose, Downward Facing Dog, or Cobra Pose to further create tension and enhance your practice.
6. How often should I include Puppy Pose in my yoga routine?
For optimal benefits, consider incorporating Puppy Pose into your yoga routine a few times per week. However, listen to your body and practice it more or less frequently based on your individual needs and comfort level.
7. Is Puppy Pose beneficial for stress relief?
Absolutely! Puppy Pose is excellent for stress relief as it promotes relaxation and encourages deep breathing. The gentle stretching of the spine and shoulders can help release tension in the upper body, providing a calming effect on the mind.