At Puppy To Dog School, a registered training organisation, we understand the importance to own dog and the necissity of professional trainers and their expertise in addressing behavioural problems, promoting obedience, and nurturing a well-mannered canine companion.
In this article, we will explore the benefits of training your dog, the role of professional dog trainer, and the diverse range of training techniques including dog agility training, formal obedience training, positive training methods, in addition to detailing the dog training course content.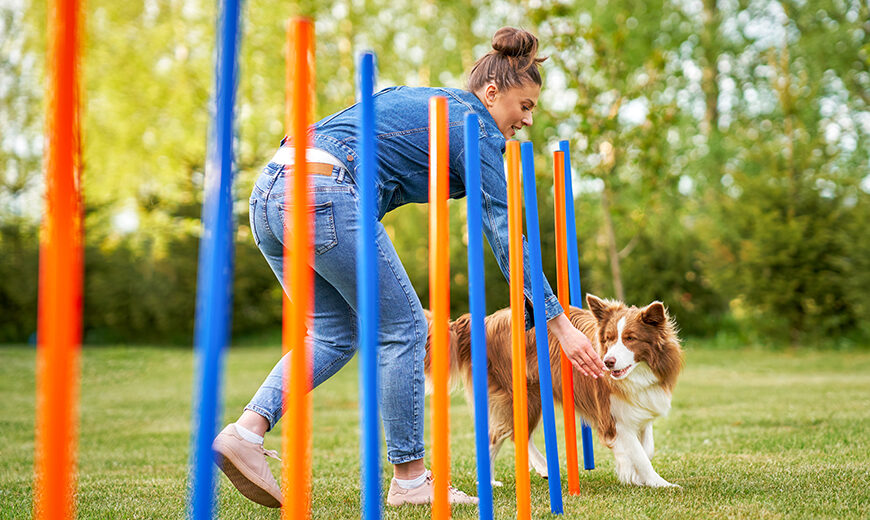 The Role of Professional Dog Trainers
When it comes to training dogs, the guidance of a dog trainer can make all the difference. A professional dog trainer possesses in-depth knowledge of animal behaviour, canine behaviour, and effective training methods and use only Their expertise allows them to understand and modify behaviour, address specific issues, and customize obedience training techniques to suit individual dogs and their unique needs.
Professional dog trainers have undergone formalgod agility training and often hold certifications from registered training organizations, ensuring they have the necessary skills to train dogs effectively.
Benefits of Dog Training Classes and Experienced Dog Trainers:
Building a Strong Bond:
Dog trainer course foster a strong bond between you and your dog. Through positive reinforcement and reward-based training techniques, you will develop trust, understand your dog behaviour, and effective communication with your furry companion animal services
Addressing Dog Behaviourist Problems:
Many people own dogs experience behavioural problems such as excessive barking, aggression, or separation anxiety. Professional trainers can identify the root causes of these issues and provide effective solutions through behaviour modification techniques.
Promoting Obedience:
Obedience training is crucial for a well-behaved dog. Practical skills teaching commands such as sit, stay, and come, which are essential for a safe and enjoyable relationship with your pet. By participating in group obedience classes or private lessons, you'll see significant improvements in your dog's response to commands.
Behaviour Modification:
Dogs are social creatures, and proper socialization is key to their overall well-being. Training courses in dog clubs provide opportunities for your dog to interact with other dogs and people in a controlled and positive environment, helping them gain sound knowledge for good social skills and reducing the risk of aggression or fear towards unfamiliar situations.
Tailored Training Techniques:
For dogs with specific training and behaviour problems, such as fear or aggression, behaviour modification techniques are employed. Trainers use desensitization, counter-conditioning, and other strategies to modify unwanted behaviours and replace them with more desirable ones.
6.Clicker Dog Training:
Clicker training is a popular method that uses a clicker as a marker to signal correct behaviours. By pairing the sound of the clicker with rewards, dogs quickly associate the click with positive reinforcement, making it easier to shape desired behaviours.

7-Canine Scent Detection:
Some dog training courses specialize in training scent detection dogs for various purposes, including search and rescue, drug detection, and even medical detection. These training method focus on harnessing a dog's natural scenting abilities and honing their skills through specialized behaviour and training methods.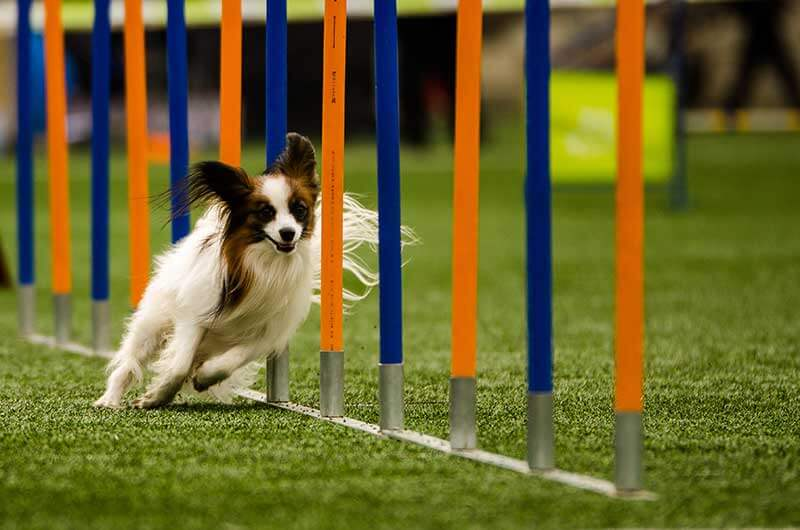 Dog Agility Sunshine Coast
The Sunshine Coast, with its stunning beaches and natural beauty, provides an ideal backdrop for outdoor activities, including dog agility training. Dog agility is a thrilling sport that involves navigating a timed obstacle course while under the guidance of their handler. This sport is open to dogs of all shapes, sizes, and breeds, making it an inclusive activity for all dog owners.
How can Dog Agility Training Aid Your Dog?
1.Physical Exercise: 
Dog agility is an excellent way to keep your furry friend physically active. The various obstacles, such as tunnels, jumps, and weave poles, provide a full-body workout, helping to maintain your dog's health and fitness.
2.Mental Stimulation: 
Agility training challenges your dog's problem-solving skills and boosts their mental agility. Learning to navigate complex courses enhances their cognitive abilities and keeps them engaged and stimulated.
3.Bonding Opportunity: 
Participating in agility training strengthens the bond between you and your dog. As you work together to conquer obstacles, you'll build trust, communication, and teamwork.
4.Confidence Boost: 
Dogs that engage in agility training often exhibit increased confidence and self-esteem. Overcoming obstacles and earning praise from their handlers can do wonders for their self-assurance.
Training Course Content
When selecting a dog training course, it's essential to consider several factors to ensure the pre requisites of your dig and the best experience for both you and your furry companion. Here are some key points to keep in mind:
Government Accredited Course:
Look for agility training course offered by a government-accredited organization. This ensures that the course meets industry standards in your local government and provides a nationally recognised qualification upon completion.
Additionally, trainers who love dogs with certifications from reputable associations, such as Delta Society Australia, demonstrate their commitment to professional development and upholding ethical training practices.
Course Content and Core Units:
Evaluate the course content to ensure it covers a wide range of topics, including dog behaviour, training techniques, and positive training methods. A comprehensive course should include both theoretical knowledge and practical skills, enabling you to apply what you learn in formal obedience training in real-life situations. 
Successful Dog Trainer:
Research the qualifications and experience of the trainers involved in the course. Look for trainers who are pet industry professionals and have practical training experience with different dog breeds and veterinary behaviourists.
Their expertise and understanding of canineinteractions and communication will greatly enhance the effectiveness of the training and behaviour.
Animal Care Method:
Understand the training method employed in the course. Positive training methods, such as rewarding desired behaviours, are generally considered the most effective and humane.
Avoid courses that rely on punitive or harsh training methodology, as these can have detrimental effects on your dog's well-being and the trust between you and your pet.
Flexibility and Convenience:
Consider the course schedule and location. Agility training classes can provide socialization opportunities for your dog, while private lessons offer personalized attention.
Online courses and online learning options may also be available, allowing you to learn at your own pace and convenience.
Reviews and Recommendations:
Read reviews and seek recommendations from other dog owners or pet industry professionals who have completed the dog agility training course. Their firsthand experiences can provide valuable insights into the course's quality and effectiveness.
Why Should You Consider Formal Obedience Training?
While dog agility training is exciting and fun, it's essential to have a solid foundation of obedience training in place. Formal obedience training provides the necessary discipline and control that will benefit your dog during agility training. Commands such as "sit," "stay," and "come" are vital for ensuring your dog's safety and cooperation on the agility course.
What You Should Know About Positive Training Methods?
When it comes to training your dog, positive reinforcement is the most effective and humane approach. Positive training methods involve rewarding desired behaviors with treats, praise, or toys, rather than punishing or scolding for mistakes. 
This approach creates a positive learning environment, making the training process enjoyable for both you and your dog.
Here are some reasons why positive training methods are the key to success:
1- Enhanced Learning: Dogs respond better to positive reinforcement. They associate good behavior with rewards, making them more likely to repeat the desired actions.
2- Stronger Bond: Positive training fosters a trusting and loving relationship between you and your dog. It strengthens the bond as your dog associates training with positive experiences.
3- Reduced Stress: Punishment-based methods can lead to stress and anxiety in dogs. Positive training promotes a stress-free learning environment, ensuring a happier, healthier pup.
The Journey of Dog Training
As a certified dog trainer, you can work independently, establish your own business, or join established training centers, boarding kennel, or animal care facilities. You may also choose to specialize in specific areas such as obedience training, rescue dogs, or even working with police dogs or scent detection dogs.
A Local Shelter for your Companion Animal:
Dog training courses play a pivotal role in shaping the behaviour, obedience, and overall well-being of our canine companions. Through the expertise of trainers, the use of reward-based training techniques, and a deep understanding of animal behaviour, these courses provide the necessary foundation for a successful dog trainer or an empowered dog owner.
At Puppy To Dog School, we are committed to helping dog owners in Australia, particularly in South Australia and the Sunshine Coast region, unlock the true potential of their dogs through our comprehensive dog training courses.
Whether you're starting with a playful puppy or seeking to address behavioural issues in a rescue dog, our courses offer a pathway to a harmonious and fulfilling relationship with your furry friend!