Welcoming a new puppy into your life is an exciting and joyous experience. As a responsible pet parent, you want to provide your furry companion with the best start in life. That's where Puppy School comes in.
Our dedicated Puppy kindergarten trainers are here to guide you and your adorable pup through the important early developmental stages. In this article, we'll explore the benefits of Puppy School and how our trainers can benefit the puppy's life and help learn positive reinforcement methods and raise your puppy reach a well-behaved and sociable dog.
Why Puppy School?
Puppy School is a specialized program designed for puppies between the ages of 8 and 16 weeks. This critical learning stage young puppies, known as the critical socialisation period, is when other puppies are most impressionable.
By enrolling your pup in Puppy School, you can ensure they receive the proper socialization and puppy training they need to become a well-rounded and well-behaved adult dog.
The Role of a Puppy Training Classes
Our dedicated Puppy Pre School trainers are experienced professionals who have a deep understanding of canine communication and behavior.
They undergo rigorous pet training, both in theory and practical methods, to provide positive reinforcement and effective training techniques through the puppy preschool classes. Their goal with puppy preschool is to create a safe environment where puppies can learn and develop important life skills.
The First Class: Building Foundations
In the first class of Puppy Preschool, trainers focus on introducing puppies of weeks of age and their pet parents to the basics of dog training. This includes learning basic commands, such as sit, stay, and come, through positive reinforcement methods.
Trainers use clicker training and appropriate rewards to teach puppies new behaviors in a fun and engaging way. Additionally, they provide guidance on toilet training, loose lead walking, and proper socialisation with other dogs.
Important Socialisation Skills
Proper socialisation is important early developmental stage a crucial aspect of puppy kindergarten. It helps puppies develop important social skills and build confidence around other dogs and humans. In the controlled environment of the class, puppies learn to interact with different breeds and temperaments.
Trainers facilitate supervised play sessions to encourage positive interactions and teach proper dog communication. These interactions lay the foundation for a well-behaved and sociable dog in the future.
Life Skills and Beyond
Puppy training classes goes beyond teaching basic manners. Our trainers focus on equipping puppies with essential life skills with practical train. This includes teaching them how to remain calm in different situations, handle grooming and vet visits, and respond to everyday cues.
By instilling these skills early on, puppies develop into confident and adaptable dogs, ready to navigate the human world with ease.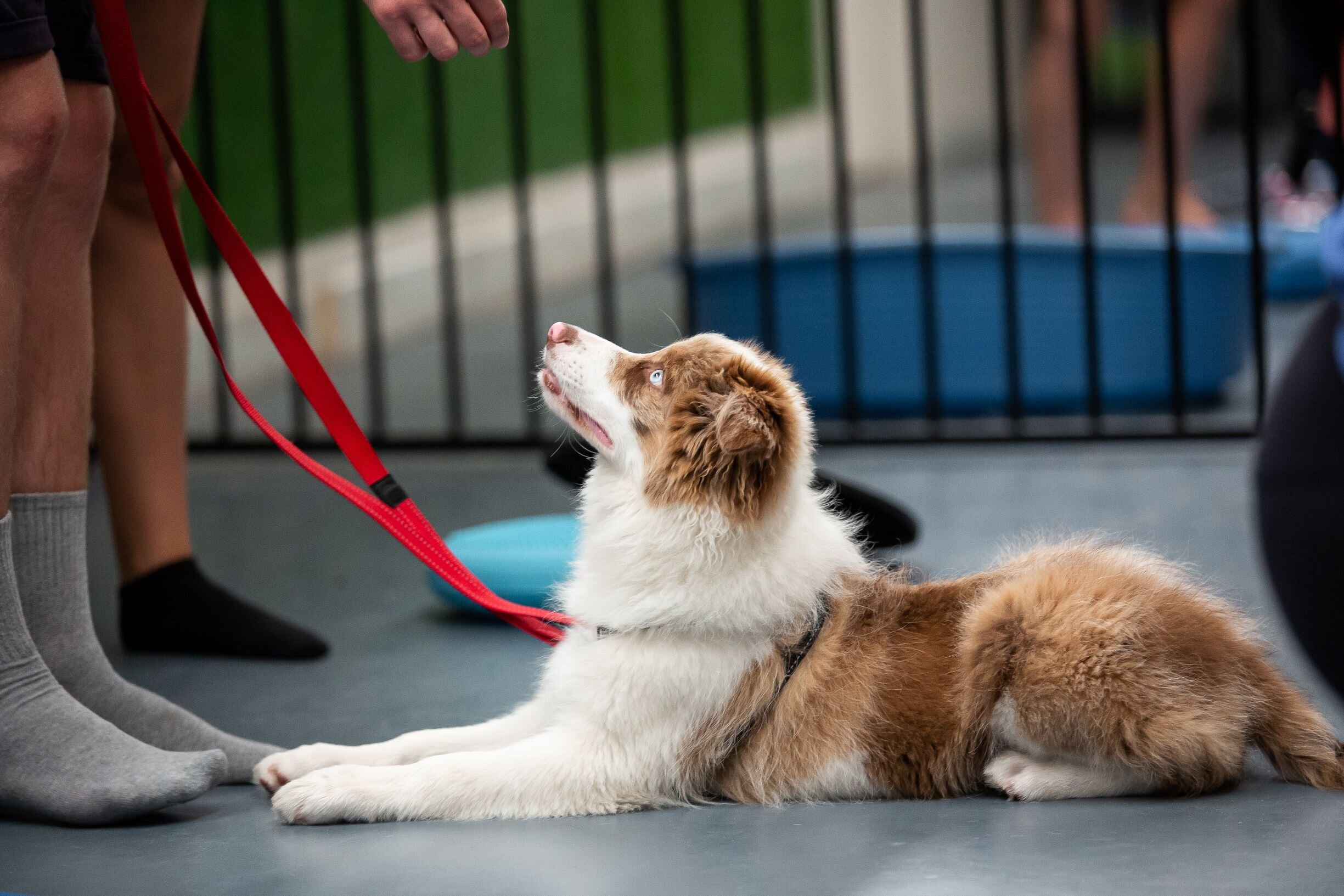 Troubleshooting Naughty Behaviour
Puppies, like human children, go through their "terrible teens" type behavior stage. It's during this time that Puppy School trainers play a vital role in troubleshooting behavioural problems developing and correcting any naughty behavior. Whether it's excessive barking, chewing, or jumping, our trainers provide guidance and strategies to help you navigate through these challenges effectively.
Continuing the Pet Training Journey
Puppy School is just the beginning of your dog's training journey. Once your puppy graduates from Puppy School, you can continue their education with more advanced classes tailored to their needs. Our trainers can guide you in choosing the right path for your pup, whether it's obedience training, agility, or specialized activities.
The bond you form with your dog or your puppy during their early training stages will set the tone for a lifelong companionship.
Overview of Puppy Preschool
At Puppy To Dog School group class, we understand that every puppy's life is unique, and our trainers are skilled at tailoring their approach to meet individual needs.
Whether your puppy needs help with obedience, behavioral problems, or simply developing essential life skills, our trainers are equipped to guide you through the process.
They have a wealth of knowledge backed by leading scientific research on well behaved dog and training methods, ensuring that you and your puppy receive the best guidance available.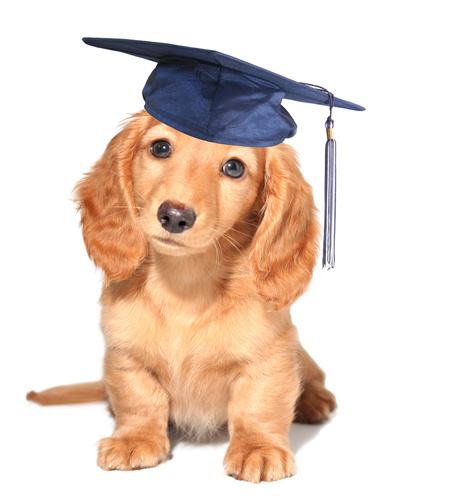 During Puppy School puppy classes, you will not only see your puppy's progress but also witness the transformation in yourself as a puppy parents. Our trainers provide valuable insights and therapy on how to communicate effectively with your young puppies, establish boundaries, and reinforce positive behavior.
By learning to decipher canine communication and respond in a positive and effective way, you will strengthen the bond with your furry companion and build a relationship based on trust and respect.
In Conclusion
Enrolling your puppy in Puppy To Dog School is an investment in their future. By a life puppy preschool providing them with appropriate socialisation, positive reinforcement, and a solid foundation of the basic train, you are setting them up for success. Our dedicated trainers undergo theory and are committed to helping you raise a well-behaved puppy, sociable, and happy dog.
Frequently Asked Questions
When should I enroll my puppy in Puppy School Class?
It's recommended to enroll your puppy in Puppy School as early or same day as possible, ideally between 8 and 10 weeks of age. This allows them to benefit from the critical socialization period and start building a solid foundation for their future behavior.
How long does Puppy School last?
Puppy School classes typically run one hour per week for several weeks, with one class per week. The duration may vary depending on the Puppy School program you choose. Dogs attend each class to maximize the benefits of pet training and socialisation for your puppy.
Why Puppy Preschool important for my puppy?
Puppy School is crucial for your puppy's socialization and early learning therapy. It a puppy school trainer helps them develop appropriate behaviour around other dogs and humans, learn basic commands, and build essential life skills that will shape their behavior as adult dogs.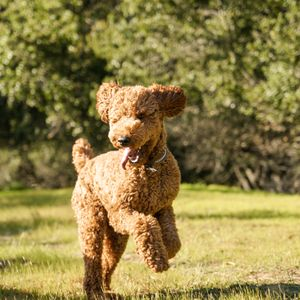 What should I bring to Puppy School classes?
You should bring suitable treats for your puppy as rewards during training sessions. It's also a good idea to bring a leash, collar or harness, and any necessary supplies such as waste bags and water for the dog safety. Check with your Puppy School for a specific list of items to bring.
How do I choose the right Puppy School?
When selecting a School, consider factors such as the trainer's qualifications and experience, the training methods used, the class size, and the overall therapy philosophy of the school. It's beneficial to visit the school, observe week classes, and speak with the trainers to ensure it aligns with your train goals and values.
Can Puppy School help with behavioral problems?
Appropriate dog training and socialisation can be a valuable for addressing and preventing behavioral problems in puppies. Trainers can provide guidance on common issues such as biting, chewing, jumping, and excessive barking. By starting the train early and addressing any concerns, you can lay the foundation for a well-behaved and happy dog.
If you have any more questions or need further information, don't hesitate to contact us through our online enquiry form or reach out to your chosen Puppy To Dog School directly. Our trainers are here to assist you and support you in raising a terrible teens type behaviour and a well-behaved and sociable puppy.
What pet training methods are used at your Facility?
Our trainers primarily utilize positive reinforcement training methods. These methods involve rewarding desired behaviors with treats, praise, or toys, while ignoring or redirecting undesired behaviors. Positive reinforcement creates a positive learning experience for puppies, promoting a strong bond between the puppy and their pet parent.
How do I know if my puppy is ready for Puppy School?
If your puppy is between 8 and 16 weeks old he has a very impressionable age and your adult dog has received their first set of vaccinations, they are generally ready to start Puppy School.
However, it's essential to consider your puppy's overall health and well-being. If you have any concerns or questions, it's advisable to consult with your veterinarian before enrolling your puppy.
Are there any resources or materials provided during life puppy preschool?
Many Puppy Schools provide handouts, training guides, or online resources to support your your new puppy who's training journey and obedience. These materials may include information on training techniques, behavior management, and general care for your puppy.
Can my puppy attend the class if they haven't completed their vaccinations?
Most Puppy Schools require puppies to have received their first set of vaccinations and be up-to-date on their immunizations. This ensures a safe environment for all puppies attending the puppy preschool classes. It's important to check with the concerend departement and provide your puppy's current vaccination record before enrolling.
How do I enroll my puppy in the puppy classes?
To enroll your puppy, you can typically contact the school directly through their website or phone number. They will guide you through the enrollment process, provide information on class schedules, fees, and any additional requirements such as one hour per week intro class.
It's advisable to enroll in advance, as Puppy School classes often have limited availability.
Can older puppies or adult dogs attend Puppy School?
While Puppy School is designed for puppies between 8 and 16 weeks of age, some schools may accept older puppies or even adult dogs in their classes. It's best to check with the specific Puppy School you're interested in to see if they offer programs for older puppies or have separate classes for adult dogs.