Crate training is an effective training tool for a dog's upbringing and behavior development. It is a process that involves using a crate, which is a small, enclosed space, to create a safe and comfortable environment for your dog.
Crate training puppy provides numerous benefits, such as aiding in house training, preventing destructive behavior, and offering a secure space for your dog. To know what is crate training for dogs in this article, we will delve into the concept of crate training, its advantages, and the steps involved in successfully crate training your dog.
Understanding Crate Training
Crate training involves acclimating your dog to a crate, a specially designed enclosure typically made of wire or plastic. The crate serves as a safe space that mimics a dog's natural instincts to seek shelter and den-like environments. Most pet supply stores offer crates for puppy to do successful crate training.
By crate training your dog, you provide them with a designated area where they can rest, sleep, or retreat when needed.
Benefits of Crate Training
Successful crate training offers several benefits to both the dog and the owner. Here are some advantages:
House Training:
Crate training is particularly helpful in house training young puppies and adult dogs. Dogs instinctively avoid soiling their immediate living space.
By confining them in a crate, you can establish a routine and teach them to hold their bladder and bowels until they are taken outside.
Preventing Destructive Behavior:
When left unsupervised, dogs may exhibit destructive behavior, such as chewing on furniture or household items and dog whines immediately.
Crate train prevents these destructive habits by providing a safe and controlled environment for your dog when you're unable to supervise them.
Safe Space and Comfort:
Dogs have a natural desire for a den-like environment where they feel secure. A crate can serve as a den for your dog, providing them with a cozy and safe space to retreat to, reducing anxiety and stress.
Transportation:
Dog's crate allows you to safely transport your dog, whether it's a trip to the veterinarian or a family vacation. Familiarity with the crate makes travel less stressful for both you and your dog.
Separation Anxiety:
Crate training can help alleviate separation anxiety problems in dogs. By associating the crate with positive experiences, dogs develop a sense of security and learn to sit quietly when left alone.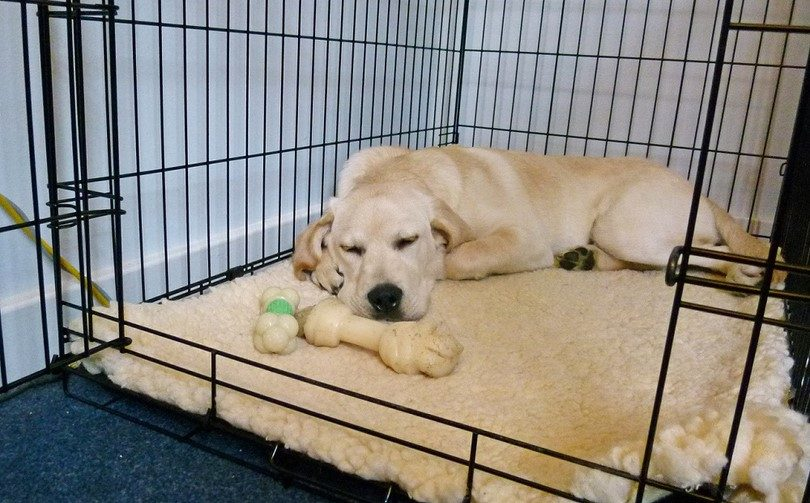 The Crate Training Process
Training procedures outlined below that could be used for training puppy and older dogs
Choosing the Right Crate:
Select an appropriately sized crate for your dog and start with appropriate exercise. It should be large enough for your dog to stand up, turn around, and lie down comfortably to keep his personal space inside the crate.
Introduce the Crate:
Start by placing the crate in an area where your family spends time, such as the family room. Leave the crate door open and allow your dog to explore it freely and don't make he door closed. Make the crate inviting by placing a soft blanket, an interactive toy, or a small food treat inside and that the puppy could be sleeping comfortably.
Feeding in the Crate:
Begin feeding your dog with small food treats near the crate and gradually move the meals in the crate. This process helps create a positive associations between the crate and mealtime. You should make the new puppy get use to regular meals in the crate .
Encouraging Crate Entry:
Encourage your dog to enter the crate willingly by tossing treats inside. Continue tossing treats further into the crate train until your dog is crate trained and comfortable entering it entirely.
Closing the Crate Door:
Once your dog enters the crate without hesitation, start closing the crate door for short periods while they remain inside. Reward your dog with praise and treats for staying calm and quiet.
Increasing Crate Time:
Gradually increase the duration your dog stays inside the crate. Begin with a few minutes and then extend the time while monitoring their comfort level.
Toilet Breaks:
Take your dog outside for a toilet break immediately after they are released from the crate. This reinforces the association between the crate and the need for elimination outside.
Extended Crate Time:
Over time, your dog will become comfortable spending longer periods in the crate. Ensure they have appropriate exercise and mental stimulation before crate confinement to prevent restlessness.
Generalizing the Crate:
Introduce the crate in various locations to familiarize your dog with different environments. This helps them feel at ease in any situation where a crate is necessary.
Positive Reinforcement:
Throughout the crate training process, use positive reinforcement techniques such as praise, treats, and verbal cues to reinforce desired behavior. Always reward your dog for calm and relaxed behavior inside the crate.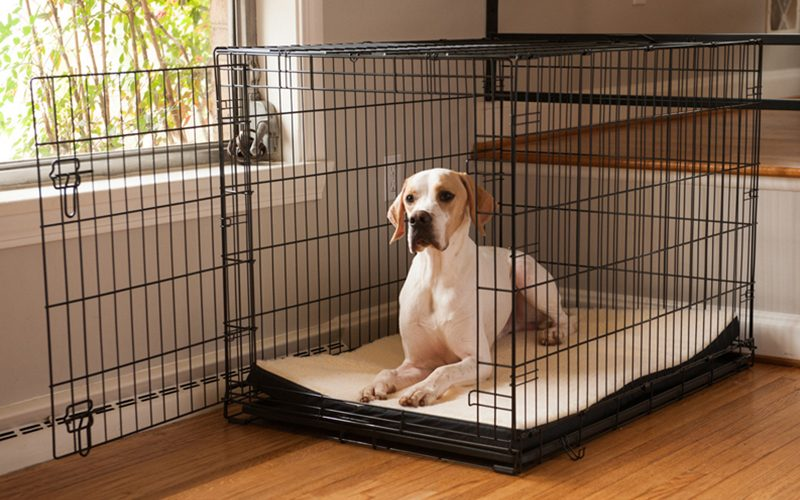 Training Older Dogs and Senior Dogs
While crate training puppy is commonly associated with young puppies, it can also be beneficial for adult dogs and senior dogs. Older dogs may require some additional patience and positive association to the crate training process, but with a gradual and positive approach, they can learn to enjoy their crate as a comfortable retreat.
When introducing crate training to older dogs, it's important to remember that they may have established habits and preferences. Take the time to choose the right crate size that allows them to move comfortably. You may need to introduce the crate in periods of time, allowing them to explore it at their own pace until dog crated.
Begin by making the crate inviting with soft bedding, familiar scents, and treats. Encourage your older dog to enter the crate willingly by using positive reinforcement and rewards. Start crate training with short periods of crate confinement, gradually increasing the duration as your dog becomes more comfortable.
For senior dogs, it's essential to ensure they have appropriate exercise and bathroom breaks outside the crate due to their age and potential mobility issues.
Additionally, consider using a crate with a comfortable orthopedic bed to support their joints and provide extra comfort.
Addressing Separation Anxiety Problems
Crate training using dog crate cage can be a valuable tool in addressing separation anxiety in dogs. Separation anxiety often manifests as anxious or destructive behavior when dogs are left alone. The crate can become a safe and secure space that alleviates their anxiety and provides them with a sense of comfort to walk calmly and standing comfortably.
To help a dog with separation anxiety and excited behavior, follow a gradual and positive crate training process. Associate the crate with positive experiences by using treats, interactive toys, and calming scents. Practice leaving the dog briefly in the crate while you step outside the room, gradually increasing the duration of separation.
A reward-based trainer or professional behaviorist can provide guidance on how to address separation anxiety effectively. They may suggest additional techniques, such as desensitization exercises or the use of calming aids, to support the crate training process.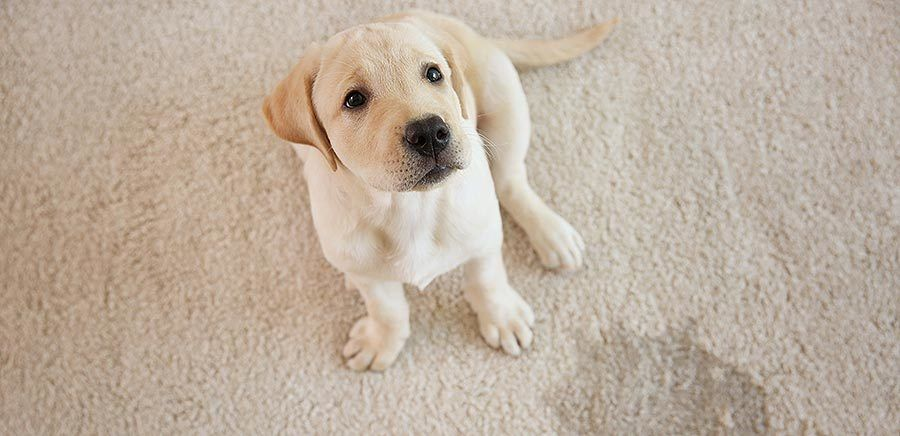 The Importance of Proper Crate Use
It's crucial for dog owners to remember that the dog crate cage should never be used as a form of punishment. The potty training should always be associated with positive experiences, comfort, and security. Forcing a dog into the crate or using it as a disciplinary tool can create negative associations and undermine the effectiveness of crate training your new dog.
Additionally, it's essential to provide your dog with adequate mental and physical exercise outside of crate confinement. Dogs need regular opportunities for play, exercise, and social interaction. A tired and mentally stimulated dog is more likely to relax and enjoy their crate time.
Exploring Crate Training for Different Scenarios
Crate training can be adapted to various situations and scenarios to meet specific needs. Here are a few examples of how crate training can be applied inside dog crate cage to adult dog or small dog:
Toilet Training:
Dog crate training is highly effective in assisting with toilet training. By using the crate to create a designated area for your dog to eliminate, you can establish a routine and teach them to hold their bladder and bowels until taken outside.
Remember to let them out of the wire crates for regular toilet breaks and reward them for successful elimination.
Travel and Vet Visits:
Dog crate training ensures your dog's safety and comfort during travel or visits to the veterinarian. Dogs who are accustomed to their crate will feel secure and less anxious in unfamiliar environments.
Portable wire crates or flight kennels are convenient options for safely transporting your dog.
Preventing Destructive Behavior:
Dogs may exhibit destructive behavior when left alone and unsupervised.
Introduce dog to the crate provides a secure space to prevent them from causing harm to themselves or your home. By confining them in a crate with appropriate toys and treats, you can redirect their energy and keep them occupied.
Separation Anxiety:
It is a matter of fact that any puppy with separation anxiety often struggles when left alone.
Crate training can help alleviate separation anxiety for the puppy to stay quietly by creating a safe and comforting space for them. Gradually increase the duration of the dog in the crate, and associate the crate with positive experiences, such as leaving interactive toys or playing calming music.
Creating a Relaxation Space:
Even dogs that don't experience specific behavioral issues can benefit from having a crate as their personal space.
By training them to view the crate as a cozy and secure spot, they can retreat to it for rest and relaxation. Place their bed or a soft blanket inside the crate to make it extra comfortable while leaving an open crate.
Managing Excited Behavior:
Any puppy may become overly excited in certain situations, such as when guests arrive or during mealtimes.
Crate training can help manage their excited behavior by providing a controlled environment where they can calm down. Encourage them to enter the crate with a treat or toy and allow them to relax until they are calmer.
Ensuring Safety during Sleep:
At night or when you are unable to supervise your puppy, crate training ensures their safety.
Dogs may be prone to accidents or may get into potentially dangerous situations when left unattended. By crate training them, you can rest assured that they are in a secure and confined space when they are left for a few minutes or longer periods of time.
Exploring Crate Training for Different Scenarios
In addition to the common scenarios mentioned earlier, crate training can be applied in various other situations to address specific needs and challenges.
Let's explore some additional scenarios where crate training can be beneficial:
Managing Excitement During Meal Prep:
Many dogs become overly excited and may exhibit demanding or intrusive behavior during food dish preparation.
Crate train your dog can provide a solution by creating a designated space for your dog to standing comfortably while you prepare their food. This helps establish boundaries and reinforces patient behavior until you introduce your dog to the crate.
Helping with Introducing a New Dog:
When introducing a new dog to your home, crate training procedures outlined correctly can facilitate a smoother transition no matter of the dog's age.
The crate can serve as a safe space for the new dog, allowing them to acclimate to their surroundings at their own pace. It also helps prevent potential conflicts between new and existing pets during the initial adjustment period.
Assisting with Rest and Recovery:
Dogs recovering from surgery or injury may need limited movement and rest.
Crate training can ensure their safety by preventing them from engaging in activities that could hinder their recovery. It provides a controlled environment where they can heal and rest comfortably under supervision.
Fostering Good Behavior During Social Gatherings:
When hosting social gatherings or events at your home, crate training can help manage your dog's behavior and prevent any potential accidents or disruptions in different scenarios such as when begin feeding.
Placing your dog in their crate and paise the dog briefly with familiar toys and treats can help them stay calm and relaxed while you entertain guests.
Remember, regardless of the scenario, it's essential to introduce crate training gradually, using positive reinforcement and making the crate a pleasant and inviting space. Adapt the training process based on your dog's individual needs and comfort level.
Final Thoughts About Potty Training
Crate training is a versatile and effective tool for dog owners seeking to provide structure, safety, and comfort for their furry companions. It offers numerous benefits, including aiding in house training, preventing destructive behavior, and creating a safe space for dogs to retreat to. Whether you have a young puppy, an adult dog, or a senior canine, crate training can be tailored to their specific needs.
Remember, crate training puppy should always be done with patience, positive reinforcement, and respect for your dog's individual needs and add a potty break. Make the crate a positive and inviting space, and gradually increase the duration of confinement while ensuring your dog's physical and mental well-being.
By incorporating crate training into your dog's routine, you can foster a strong bond, establish healthy habits, and create a harmonious living environment for both you and your beloved canine companion.