As dog owners, we know how much our pets mean to us and the importance of doggy day care Hawthorn. They are not just pets; they are members of our family, showering us with unconditional love and loyalty.
However, we also understand that our busy lives may not always allow us to be pet sitter for them to provide our beloved pooches with the constant supervision, mental enrichment, and socialization they need.
That's where Puppy To Dog School comes to the rescue! Our doggy day care Hawthorn services offer a fabulous day filled with fun and socializing for your four-legged companions, ensuring they receive the best care in their doggy daycare Hawthorn East and doggy day care eastern suburbs Melbourne.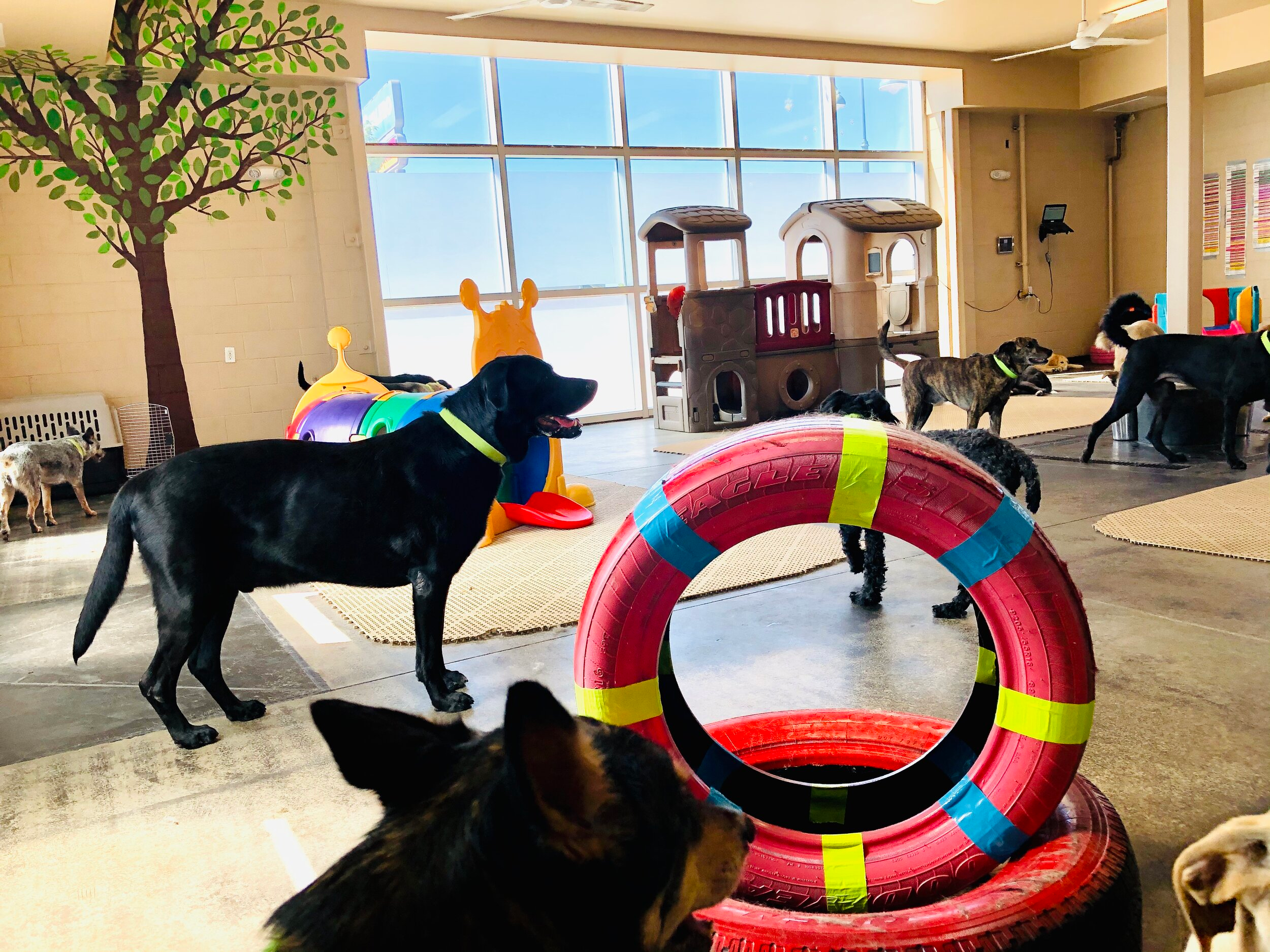 What is Doggy Day care Hawthorn?
Doggy daycare, also known as dog daycare or doggy daycare, is a service designed for pet parents who want to ensure their dogs get the exercise, play, and socialization they need while they are away at work or for other reasons.
It's a safe and stimulating environment where each one dog can interact with other dogs under the constant supervision of trained staff members. The goal is to keep them mentally and physically engaged throughout the day, till the down time preventing them from getting bored or anxious.
The Benefits of Doggy Daycare Hawthorn East and Doggy Day Care Eastern Suburbs Melbourne
Socialization and New Friends:
Dogs are naturally social creatures, and at daycare, they have the opportunity to interact with other dogs, helping them build positive relationships beyond one dog and learn proper social behavior.
Physical Exercise:
With playtime, toys, and ample space to run around, your dog will get plenty of exercise during their visit to the daycare. Regular exercise contributes to their overall health and happiness.
Mental Enrichment:
Doggy daycare programs often include mentally stimulating activities and toys, keeping your pet's mind sharp and active.
Safety and Peace of Mind:
At Puppy to Dog School, safety is our top priority. Dogs are supervised by experienced handlers, reducing the risk of any accidents or negative interactions.
Relief from Boredom and Anxiety:
Dogs left alone for long hours can become bored or anxious. Doggy daycare provides them with a structured, fun and enjoyable environment, preventing feelings of loneliness and restlessness.
A Typical Day of Doggie Daycare Hawthorn
Each day at our daycare is designed to cater to your dog's specific needs and temperament. When you drop off your pup in the morning, they'll be warmly welcomed by our friendly staff and introduced to their playmates for the day as if they are in their house.
Dogs are separated into groups based on size, play style, and temperament to ensure a harmonious environment.
Morning Playtime and Socializing:
Dogs start their day with an exciting play session with their furry friends. Whether it's chasing balls, tugging on toys, or simply running around the house, our daycare provides an energetic start to the day.
Mid-morning Rest and Snacks:
After all that exercise and socializing, dogs need a bit of rest. We provide a calm and comfortable environment for them to relax and enjoy a healthy snack to recharge their energy.
Engaging Activities:
Throughout the day, our staff members interact with the dogs, providing mental enrichment activities and extra play sessions to keep them involved and entertained.
Afternoon Playtime and Party:
In the afternoon, the fun continues with more play and socialising. It's a joyous time for all the dogs as they romp around and socialise and make the most of their day in selected locations.
Nail Clipping and Grooming (Optional):
If requested, our trained staff can take care of nail clipping and light grooming, ensuring your dog is looking and feeling their best when you pick them up.
End of the Day:
As the day comes to a close, your tired but happy pooch will be ready to head back home, where they can rest and cuddle with you, having spent a wonderful day at daycare.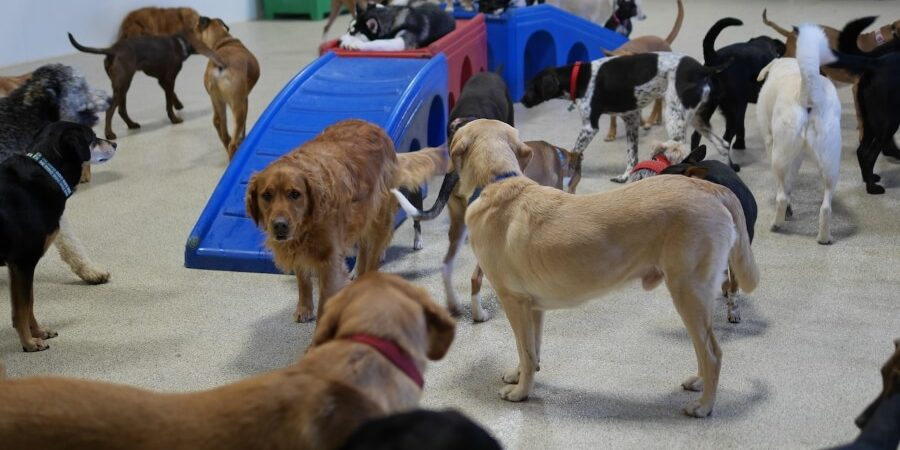 Convenient Services and Location for Doggy Day Care Hawthorn
At Puppy to Dog School, we understand that every dog is unique, and their needs may vary. That's why we offer flexible daycare services, allowing you to choose the frequency of visits that suits your schedule best.
Whether you need daycare for your dog or your pooch every weekday or just once a week on Thursdays, we've got you covered.
Our location in Hawthorn East is carefully selected to provide easy car access for pet parents in addition to doggy day care eastern suburbs Melbourne.
You can drop off your furry friend on your way to work and pick them up on your way back home, ensuring they get the care and attention they deserve throughout all hours of the day.
Trained Staff and Safe Environment
Our team of handlers and caregivers at Puppy To Dog School are passionate about dogs and dedicated to their well-being.
Each staff member is trained to understand dog behavior and ensure a safe and enjoyable experience for all the dogs in our care. You can rest assured that your precious pet is in good hands.
The daycare environment is designed with your dog's safety in mind. We have secure play areas, double-door entries to prevent any escape artists, and a designated quiet space for dogs who need a little rest or alone time.
Dogs are always supervised safely during play sessions to ensure positive interaction between two dogs and prevent any potential issues.
Socialise and Interaction for Dog Daycare
One of the key benefits of doggy daycare is the opportunity for your pet to socialize with two dogs or more. Dogs are pack animals by nature, and socializing with their canine peers helps improve their behavior and communication skills.
Additionally, interacting with other dogs in a controlled and positive environment can boost their confidence and reduce anxiety in their daily life.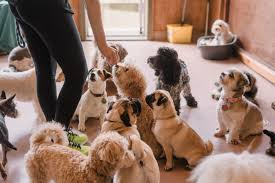 Special Care for Special Dog Daycare
At Puppy To Dog School in Hawthorn, Melbourne, we understand that some dogs may require extra attention or have unique needs such as humans.
Our team is experienced in handling various temperaments and will ensure that your dog feels comfortable and secure during their time with us.
For example, if you have an older dog who prefers a more relaxed environment and cuddles, we can provide a cozy spot for them to rest and enjoy some down time.
Similarly, if you have a high-energy pup who loves to play, we'll make sure they get plenty of exercise and stimulation to keep them happily tired by the end of the day.
All our clients will pride and happy for their dogs in our dog daycare.
Health and Wellness
Maintaining your dog's health and well-being is of utmost importance to us. We encourage healthy play and provide fresh water throughout the day to keep your furry friend hydrated.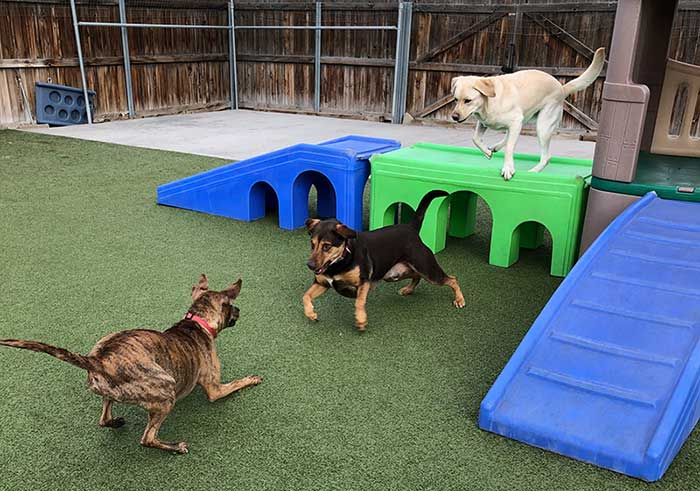 If your dog has any specific dietary needs or medications, just let us know, and we'll ensure they receive the necessary care.
Contact and Updates
We understand that, as pet parents, you may want to check in on your dog during the day. That's why we offer the convenience of regular updates, including photos and messages, so you can see your pup having a blast with their new friends.
Knowing that your your furry friend and companion is safe, happy with the pet sitter, and enjoying themselves will give you peace of mind and make your day a little brighter too.